Patient Participation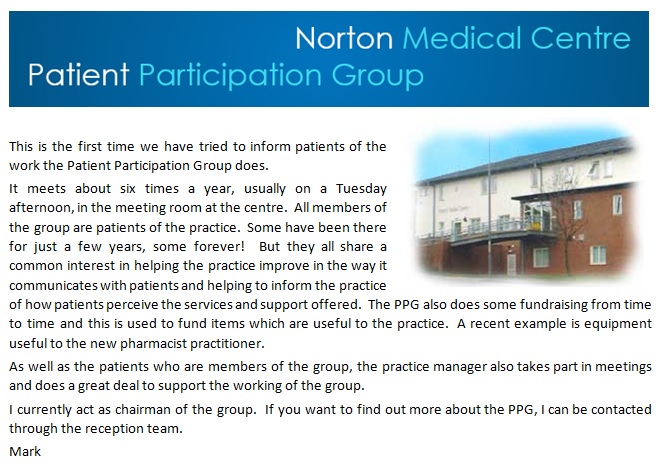 Patients' Group
A voluntary group, run by patients for patients - with a little help from the team. They get together several times a year to discuss health-related topics. They choose, plan and organise their events and are also involved in fundraising. Watch for the posters in the surgery or ask at reception for details.
Patient Reference Group
The Patient Reference Group will be a virtual group who are contacted occasionally and asked for an opinion on aspects of the Practice and the services provided. We would like as many people as possible to provide their email addresses and agree to be contacted every now and again to answer a few questions.
If you are interested in joining this group please complete this form and hand it in at reception.
Patients' Views
We aim to offer a quality service and are interested in hearing any constructive comments you have to make which will help improve this service. You can write your comments, complaints, suggestions or ideas down and place them in the Patients' Views Box situated in the main waiting room.
Patient Participation Reports
2014/15
Patient Participation Report 2014/15
2013/14
During July and August 2013, we conducted a survey which focused on our new appointment system. The survey indicates that the majority of patients were happy with the outcome of their consultation, and found accessing their doctor the same day via the telephone more convenient than the traditional system of booking an appointment in advance.
Summary of the Patient Survey of the New NMC Appointment System
Based on the feedback we received during this survey and from instances where patients have reported a problem to us, we have developed a series of Frequently Asked Questions about the Dr First appointment system.
Please click the link below to view the full survey results plus our action plan.
Patient Participation Report 2013/14
2012/13
During July and August 2012 we conducted a survey into patients' views about Norton Medical Centre. We are pleased to report that on the whole, over 90% of patients are satisfied with the service we provide. The survey highlighted a number of areas where our patients felt we needed improvement; mainly regarding the cost of telephoning us, and access to appointments.
As a result of the survey we have taken a number of steps to address the issues raised. We switched to a geographical (01642) telephone number in November 2012, and are due to commence a new appointment system called Dr First in April 2013.
Please click the link below to view the full survey results plus our action plan.