Prescriptions
Click here to order Repeat Medications online
Patient instructions for ordering repeat medication online
NMC Guide to Ordering Prescriptions Booklet
Please note that the practice prescription ordering telephone line will no longer be available as of 1st January 2019. Please refer to the information below and the posters within the surgery for more information.
If you wish to order a medication that is not on your repeat list, you can put a request for this to your doctor using our usual ordering methods, however as it is not on your repeat there is no guarantee the doctor will issue this medication, or within the two full working day time frame; the decision to issue the medication is at your doctor's discretion, and he or she may not be happy to do so.
You are advised to ring the pharmacy to see if the prescription has been done and sent there or ourselves to check the response to your request after at least two full working days. We do endeavour to get your prescription to you as efficiently as possible, but safe prescribing of medication is essential.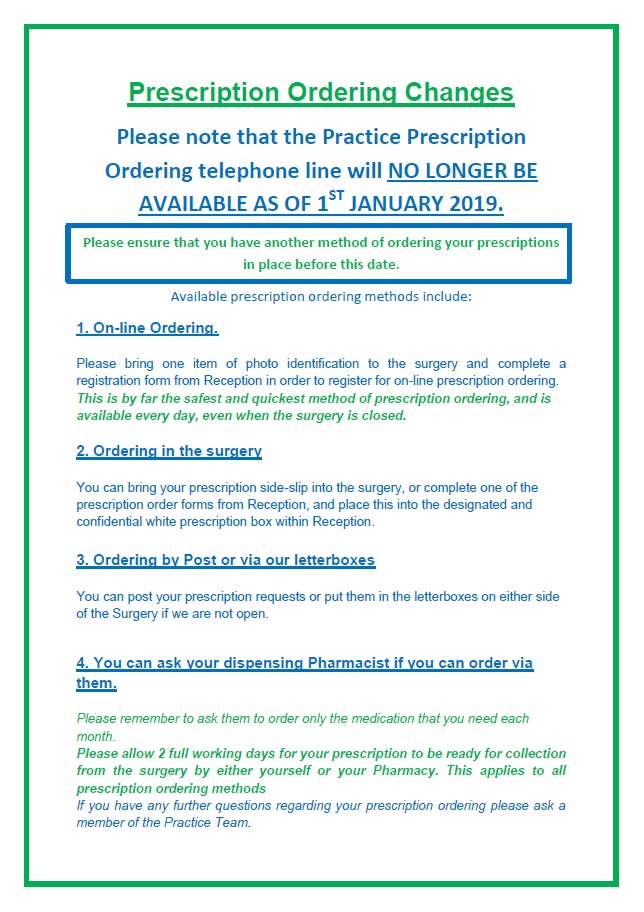 Please note that anyone currently ordering their repeat prescription by telephone before 1st January 2019 will need to call Reception on 01642 745350 and then press option 2 This service is available:
Monday, Tuesday, Wednesday and Friday from 10.30 to 12.30 & 13.30 to 15.30.
Thursday from 10.30 to 12.00 & 15.00 to 15.30
Alternatively, patients can order their repeat medication by:
• Using their prescription counterfoil and using the drop in box in the waiting area.
• Signing up for online access - Please ask at Reception for more details. This service is normally available 24/7.
• Speaking to their local pharmacy to see if they offer a prescription ordering service.
The practice operates a repeat prescribing service for patients taking regular medications (these will be listed on the slip accompanying your prescriptions).
PLEASE TRY TO ORDER YOUR PRESCRIPTION WELL BEFORE YOU RUN OUT.
If you use the computerised request slip from your last prescription we can usually supply your new prescription 48 hours after receipt of the request (Monday to Friday only).
We provide a telephone ordering service for repeat medications. You will need your computerised request slip available. Please note we cannot order medications which are not on your computerised slip.
If you would like to order your repeat medication online please ask at reception.
Alternatively, requests can be posted or faxed to us, (Fax: 01642 745 351) or delivered to the prescription box in reception. Repeat prescriptions can be posted back to you if a stamped addressed envelope is supplied, or you may wish to ask your pharmacist to collect the prescription on your behalf.
Electronic Prescriptions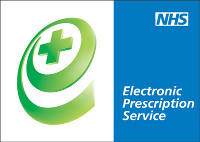 Prescriptions can now be sent to pharmacies electronically, removing the need for patients to collect paper prescriptions from their GP practice.
You can choose where you would like the GP to send your electronic prescription. This is called 'nomination'. You can nominate a pharmacy or dispensing appliance contractor (if you use one) by informing a member of staff at any pharmacy or dispensing appliance contractor that offers the service, or informing a member of staff at the practice. You can also nominate a pharmacy using SystmOnline.
You can change your nomination at any time, or cancel your nomination and receive a paper prescriptions. You do not have to use nomination every time you order your prescription. If you do not wish to use your nomination on a particular prescription, please let us know before the prescription is issued.
Please note that not all medications can be sent electronically. Any medications which cannot be sent electronically will be printed on a paper prescription and can be collected from the practice.
More information about the NHS Electronic Prescribing Service can be found on the HSCIC website.