Prescription Information & Staff Shortages
Due to the increased demand and staff shortages prescription requests are taking longer to process. Please be patient waiting for routine prescriptions. If it is urgent please talk to one of our reception staff and we will prioritise the prescription requests.
We are currently experiencing staff shortages due to members of staff having to self isolate as per Government guidelines. Please be patient while we try to process the increased demand on our services.
Prescription Requests
All prescription requests should be posted into the letterboxes outside of the practice. Prescription slips can be picked up and filled out from the tables in the porches and outside of the practice.
Rescue Packs for Asthma and COPD
Information regarding Rescue packs for Asthma and COPD patients during Covid can be found below:
For asthma: patients should not be provided with rescue packs, they need to seek medical assistance as per their asthma action plan ie Moderate asthma: ask for GP appointment (which would be triaged on phone re covid19 first)
Acute severe asthma: patient would need 999 call.
COPD patients: routine rescue packs should not be given/reissued without the clinician having a very explicit conversation with the patient distinguishing between symptoms of COVID19 (for which a rescue pack could actually cause harm) vs symptoms of copd exacerbation (which of course would be appropriate).
Prescriptions
Click here to order Repeat Medications online
Patient instructions for ordering repeat medication online
NMC Guide to Ordering Prescriptions Booklet
NMC Over The Counter Medication Information
Click here for more Over The Counter Medication information
From September 2019 you will no longer be able to use a third party such as a high street or internet pharmacy to order repeat prescriptions on your behalf. Instead you will need to order repeat prescriptions directly from your GP yourself. If you already order repeat prescriptions directly from your GP then you will not be affected by this change, and you do not need to take any action. Please note: This change does not affect how you choose to collect your medication, only how you order it. You will still be able to arrange for a high street or internet pharmacy to collect your repeat prescriptions from your GP practice and deliver medication to your door.
IMPORTANT Information for Patients - FRAUD REPEAT PRESCRIPTIONS
BE AWARE of non-NHS repeat prescription services
We are aware that repeat prescription services that are not legitimate NHS services are currently being advertised. Be cautious if an individual offers to pick up your prescription for you at a cost
Any advertisement for a legitimate NHS service offering repeat prescription service will display the NHS logo and the contact details of the organisation(s) providing this. If you have any questions or concerns about a service that you have seen advertised in your local area, please check with the County Durham and Tees Valley Clinical Commissioning Group (CCG), please ring 01642 746909.
For more information click here
How can I order my repeat medication?
GP Online – You can use GP Online Services to order your medication straight from your computer or smart phone. Please ask at your GP practice for more information about how to do this.
In person – You can hand in the white, tear off part of your repeat prescription to your surgery, or ask at the reception desk for a repeat prescription request form.
By post – You can post the white, tear off part of your repeat prescription to your GP, or put the request clearly in writing with your name and date of birth.
Remember: Always check how many days of medicine you have left before ordering a new prescription.
Please note it takes up to two full working days for your GP practice to process your repeat prescription request. You may order up to 7 days in advance but repeatedly ordering early will flag up on the system and your prescription ordering may be closely monitored if we suspect abuse.
Why is this happening?
To improve patient safety - Sometimes when medications are ordered on your behalf you might continue to receive medication that you no longer need. Only ordering medication when you need it, can help prevent the build-up of unused medicine at home, which has to be stored safely and used within date.
To reduce waste and save money - It is important that NHS money is used as efficiently as possible. It is estimated that over-ordering, stockpiling and not using medication, costs the local NHS around £2.5 million per year. This is money that could be better used to benefit the health of more people in our area.
Where can I get more help?
If you have any questions about this change please contact the County Durham and Tees Valley Clinical Commissioning Group (CCG) on 01642 746909 or email necsu.rpos@nhs.net.
If you need any extra support ordering your repeat prescription, please download the vulnerable patient criteria form (or ask for one at reception) to hand into the doctors for our consideration.
If you wish to order a medication that is not on your repeat list, you can put a request for this to your doctor using our usual ordering methods, however as it is not on your repeat there is no guarantee the doctor will issue this medication, or within the two full working day time frame; the decision to issue the medication is at your doctor's discretion, and he or she may not be happy to do so.
You are advised to ring the pharmacy to see if the prescription has been done and sent there or ourselves to check the response to your request after at least two full working days. We do endeavour to get your prescription to you as efficiently as possible, but safe prescribing of medication is essential.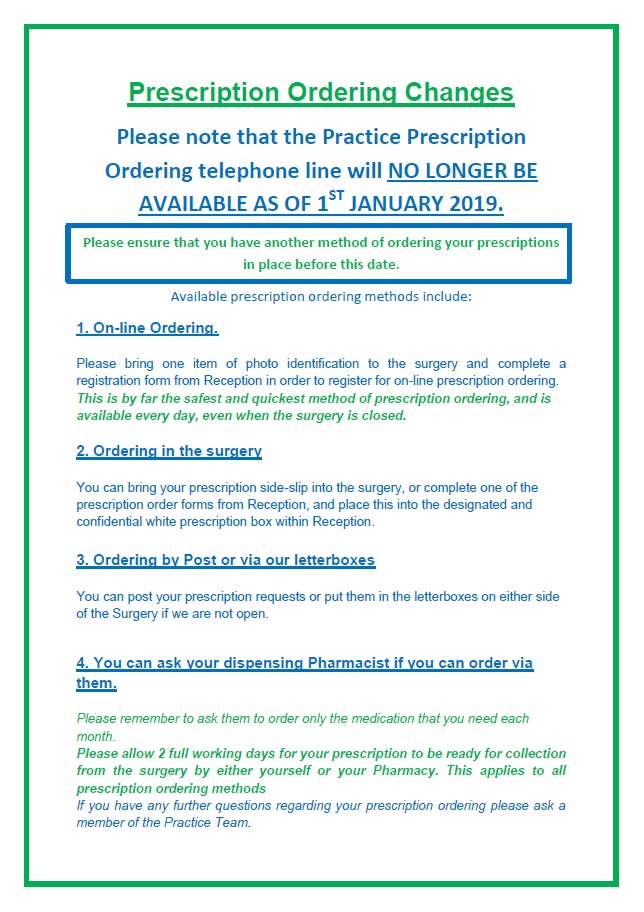 Patients can order their repeat medication by:
• Using their prescription counterfoil and using the drop in box in the waiting area.
• Signing up for online access - Please ask at Reception for more details. This service is normally available 24/7.
• Speaking to their local pharmacy to see if they offer a prescription ordering service.
The practice operates a repeat prescribing service for patients taking regular medications (these will be listed on the slip accompanying your prescriptions).
PLEASE TRY TO ORDER YOUR PRESCRIPTION WELL BEFORE YOU RUN OUT.
If you use the computerised request slip from your last prescription we can usually supply your new prescription 48 hours after receipt of the request (Monday to Friday only).
If you would like to order your repeat medication online please ask at reception.
Alternatively, requests can be posted to us, or delivered to the prescription box in reception. Repeat prescriptions can be posted back to you if a stamped addressed envelope is supplied, or you may wish to ask your pharmacist to collect the prescription on your behalf.
Electronic Prescriptions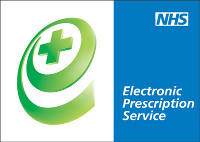 Prescriptions can now be sent to pharmacies electronically, removing the need for patients to collect paper prescriptions from their GP practice.
You can choose where you would like the GP to send your electronic prescription. This is called 'nomination'. You can nominate a pharmacy or dispensing appliance contractor (if you use one) by informing a member of staff at any pharmacy or dispensing appliance contractor that offers the service, or informing a member of staff at the practice. You can also nominate a pharmacy using SystmOnline.
You can change your nomination at any time, or cancel your nomination and receive a paper prescriptions. You do not have to use nomination every time you order your prescription. If you do not wish to use your nomination on a particular prescription, please let us know before the prescription is issued.
Please note that not all medications can be sent electronically. Any medications which cannot be sent electronically will be printed on a paper prescription and can be collected from the practice.
More information about the NHS Electronic Prescribing Service can be found on the HSCIC website.